Empowering Women Through Service & Advocacy
Get Involved in 2023!
Mar. 21 – Club meeting: Held on the 3rd Tuesday of every month at 6:00 pm at the Old New York Cafe in Camarillo (Verdugo Road, Santa Rosa exit off 101). We also have a Zoom option for those not able to attend in-person. If you would like to join us, please email the club at [email protected].
Mar 22 – WFC Dinner: The 4th Wednesday of each month, the club provides a home-cooked meal to about 80 student and professional volunteers at the Westminster Free Clinic on Janss Road. If you love to cook, this service is for you!
Remarkable Women Book Club: Now reading "I Made Lemonade" by Ela Pandya, Zontian from Porterville CA club. Available on Amazon. Contact Karen @ 805-216-2235 or [email protected] if you would like to participate. We will be gathering in mid-May (date tba) for discussion and conversation with the author. (download Book Club flyer)
Apr 30 (download pdf flyer) – Celebrate new life! Support women & Families experiencing unexpected pregnancy 2:30—5:00 Serra Center, Camarillo (5205 Upland Road). Join us for:
Afternoon tea, delicious refreshments with "tea-tasting"
Speaker: Michele Loughman, Director, Life Centers of Ventura County (Helping women make informed decisions about pregnancy) – Information about available services, community support and the circumstances surrounding unintended pregnancy today
Baby shower activities to encourage and support new moms
Registration details:
$10/person to attend or $60/table (max 8 people) – REGISTER HERE
Bring a baby shower gift (diapers or gift cards. In-lieu option on registration link)
Buy an everlasting flower to honor your mother/grandmother/etc.
Extra donation options to support Zonta and/or Life Centers VC outreach
All are welcome … this is a non-political, debate-free event centered around supporting women.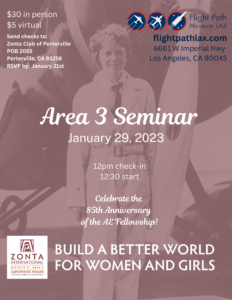 Jan. 29 – Area 3 Meeting / AE Fellowship and YWPA scholarship recognition event: Starting at noon at the Flight Path museum at LAX we will hear from Jordan Bretzfelder, 2022 Amelia Earhart Fellow. Her research focus is on planetary surfaces. We also will be honoring and awarding our 2022 Young Women in Public Affairs Award International winner from our district, Catherine Xu. A tour of the Museum will follow.
Young Women in Public Affairs and new Women in STEM scholarship applications now available! Jump to: Scholarships
International
Zonta International is a leading global organization of professionals empowering women worldwide through service and advocacy. Founded in 1919, in Buffalo, New York, Zonta International has grown to more than 30,000 members in more than 1,200 Clubs in 67 countries and geographic areas. We are proud to have our local Santa Clarita Club member Sharon Langenbeck serving as ZI President 2020-22
Zontians throughout the world volunteer their time, expertise, and support to local and international service and advocacy programs: and award and scholarship programs designed to fulfill Zonta International's mission and objectives. Link to Zonta International website: http://www.zonta.org

Mission – Zonta International is a leading global organization of professionals empowering women worldwide through service and advocacy.
Vision – Zonta International envisions a world in which women's rights are recognized as human rights and every woman is able to achieve her full potential. In such a world, women have access to all resources and are represented in decision making positions on an equal basis with men. In such a world, no woman lives in fear of violence.
District 9
District 9 was established in 1929 and includes Arizona, California, Hawaii, Nevada and Utah. There are about 500 members in 25 clubs in the district. Throughout our history, District 9 Zontians have been active at the club, district, and international level, including serving as international directors, committee chairs, and four as Zonta International President. We continue to be major contributors to the Zonta International Foundation. Ms. Debbie Angwood from Mariposa AZ is the 2022-24 District 9 Governor. Link to District 9 website: http://www.zontadistrict9.org

Join us October 5-8 in Burbank, CA for the 2023 Zonta District 9 Convention.
Area 3
Area 3 consists of six clubs in and around the greater Los Angeles metropolis: Antelope Valley, Burbank, Porterville, Santa Clarita Valley, Conejo Valley (Ventura County) and the new West LA club. Beth Heisermann from the West LA club serves as our Area 3 Director. Five other clubs in Southern California make up Area 4: South Bay (new!), Newport Harbor, San Bernardino, Riverside, Redlands.
Club – Conejo Valley Area
The Zonta Club of the Conejo Valley Area was established in 1972 and it's 501c3 nonprofit Foundation in 1995. It's members live in Ventura County, California and the neighboring communities in the western portion of Los Angeles County. The CV Club has a rich history of substantial service and contribution to the local area, the District and Zonta International. The CV Club annually distributes $5,000-$8,000 in scholarships for women and girls, supports an elementary school Dual Literacy Program, local assistance programs, as well as the Westminster Free Clinic (runs two free weekly medical clinics and their innovative Teen Internship Program). The Club is a proud funding partner for ZTAP (Zonta Training and Advocacy Program), whereby paraprofessional adults train others to disseminate information and resources that will assist families dealing with mental illness and domestic violence issues. For 20+ years the CVA Club has organized Special Kids Day at the Conejo Valley Fair.
RIP – Yvonne Bradley and Joyce Moore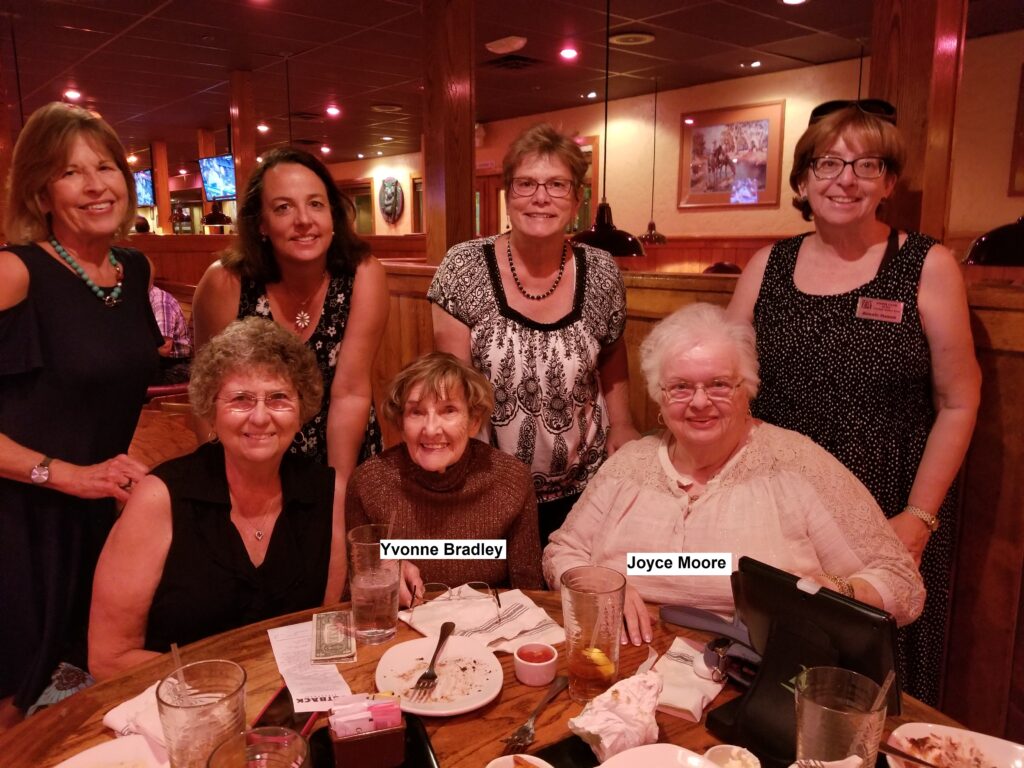 Joyce was our fellow club-member and friend for 28 years. She had a big heart, especially for special-needs children and their families, and was always willing to help. Joyce served in most club positions, including president and Special Kids Day chair. She attended several District 9 conventions including San Francisco and Hawaii. Joyce was a successful entrepreneur with her own travel business. Joyce passed away August 7, 2020 and will be sorely missed by all.
Yvonne was a club-member and friend for 12 years, passing away April 26, 2020 at 88 years old. Yvonne was beloved for her sharp wit, can-do attitude, and ability to make everyone smile. As a brilliant laboratory scientist, she crashed through a number of "glass-ceilings", paving the way for women in science, leadership and higher education. A beautiful, brilliant friend, she will be sorely missed.